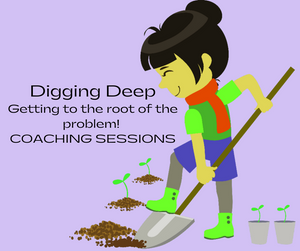 Rainbow Tree Therapies, LLC
Digging Deep Coaching Sessions
Sale price Price $72.00 Regular price Unit price / per
Tax included.
These sessions are for you if you...
You need more support at home. 
There are two options: 
1. The first type of coaching calls can be to offer insight in your child's challenges at home.  This type of call would require a private therapy evaluation through Rainbow Tree.  The focus would be to support in problem solving and offering some strategies to try at home. 
2. The second type of coaching calls can be to learn more about therapy in general, to learn more about resources available, how to advocate for your child, what certain words mean in regards to a school IEP and to offer perspective and things to consider when navigating support for your child. This coaching call will not speak to specific tools or strategies for your child. 
SESSIONS ARE 45 MINUTES IN LENGTH.