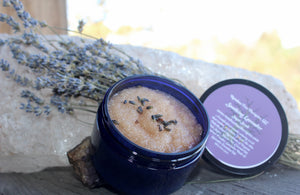 Rainbow Tree Inspirations
Healing Sugar Scrubs
Sale price Price $12.50 Regular price Unit price / per
Tax included.
What do sugar scrubs do for the skin?
Sugar scrubs help slough off dead skin cells, promote softer and smoother skin, and increase circulation.  The also assist with regeneration of the skin process.  Sugar scrubs also support skin as an anti-aging product.  Because of its ability to stimulate overall cellular turnover, exfoliation can help in collagen and elastin production. Collagen and elastin are crucial to anti-aging and youthful-looking skin.  All scrubs can be used on face with caution if you have sensitive skin.  
Rainbow Tree offers two Sugar Scrub Options:
Soothing Lavender Sugar Scrub includes the finest of ingredients of Jojoba Oil (infused with Calendula herb), Organic Cold Pressed Coconut Oil, Organic Sugar Cane, Lavender Buds, & Therapeutic Grade Lavender Essential Oil.   This a whipped sugar scrub so it presents with a firm consistency.  Jojoba oil most closely mimics sebum of our skin and is a lighter less clogging oil.   Coconut Oil adds antibacterial and ultra hydrating properties.  Lavender essential oil adds not only a lovely aroma but beneficial healing properties to the skin  This will be a most relaxing spa treatment!  BPA free containers.
**  Scrubs are whipped so the consistency will be firm.   This allows for easier application  as it will stay together. 
Shipping Policy |  Return Policy |  Contact Us